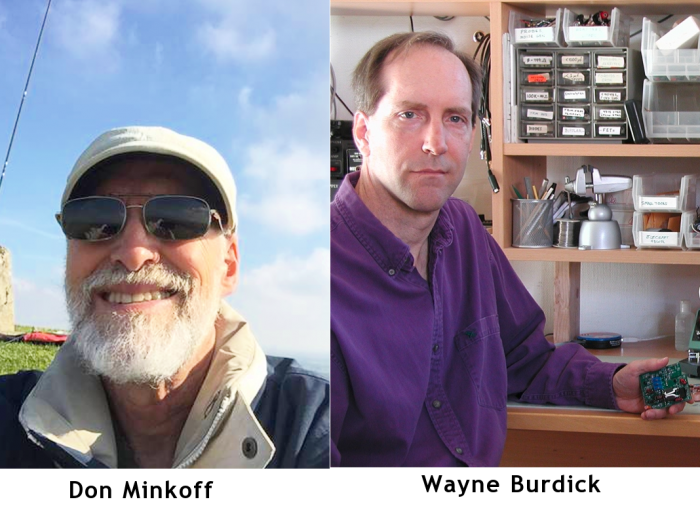 Taking your Radio Outdoors: A Tale of Shack Sloths and Mountain Goats
Summits on the Air  (SOTA).
Taking your Radio Outdoors:  A Tale of Shack Sloths and Mountain Goats
Speaker Biographies
Don Minkoff – NK6A, was first licensed as a Novice in 1959 as WV6HYF.  Don was drawn to chasing DX and contesting in the early 80's but found that operating with 5W was also a fun challenge plus a quick route to winning certificates for contesting. The Heathkit HW8 was his entry into low power and portable operation in 1980. Taking a radio on camping vacations was as natural as packing a fishing rod  in  the Sierras or up in the Canadian Rockies. Smaller and lighter radios were built and taken on many hiking trips and even a cruise down the St. Lawrence Seaway.  Don continues to be active in contesting and chasing DX but is drawn to the great outdoors, taking small, lightweight radios and antennas to mountain tops  for Summits on the Air. The chance to be DX and operate in Europe plus climb a summit has resulted in a further addiction.  Don will tell us how you too can become addicted to Summits on the Air.
Don Minkoff, NK6A, will give a presentation on one of the fastest growing special interests in amateur radio today. This group has an award scheme for radio amateurs and shortwave listeners that encourages portable operation in mountainous areas. SOTA has been carefully designed to make participation possible for everyone – this is not just for mountaineers!
Wayne Burdick – N6KR, is Elecraft's Chief Technology Officer and principle designer of the K1, K2, K3, KX1, KX2, and KX3 transceivers. Prior to founding Elecraft with Eric Swartz, WA6HHQ, Wayne created the Wilderness Radio kits (NorCal 40A, Sierra, and SST), refinements of his popular NorCal QRP Club designs. The NorCal 40A was also the subject of an RF design text by Prof. David Rutledge, CalTech. Wayne and Eric have both been inducted into the QRP Hall of Fame, and also jointly received the ARRL's Technical Excellence Award for their Elecraft designs. Wayne holds a degree in Cognitive Science from U.C. San Diego, and has worked for many years as a software/hardware engineer, specializing in user interface design.